About the Artist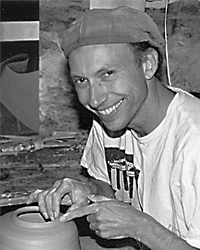 Thomas Bothe's story is the classic case of what can happen when you follow your bliss. After being laid off from his job as an engineer in 1993, Thomas took some time to reflect on what he might like to do with his life. He came to Pittsburgh for a few weeks to help in his brother's Fine Furniture design business and found himself drawn to the creative, hands-on work life his brother enjoyed. That Fall, he took his first pottery class with Stephen Merritt at Rochester Institute of Technology and soon realized he had found his new career. More pottery classes and more time working alongside his brother in the furniture business convinced him that he had to give pottery a try. In the fall of 1994 he stopped looking for engineering jobs and dedicated the next year to developing his skills as a potter. He hasn't looked back.
Thomas acquired a job in production pottery at Earth Tones Pottery and also became a studio tech at the Manchester Craftsmen Guild in Pittsburgh. He eventually became a resident artist at MCG, where he learned glazes and fired cone 10 reduction kilns and taught pottery and hand building to high school students. He also attended numerous workshops and lectures by ceramic artists such as Ken Ferguson, Karen Karnes, Michael Simon, Richard Aerni, and David McDonald, to name a few.
At night, Thomas began developing his own signature style in the basement of the home he was renting. Four years later, he began to sell raku and functional pottery at shows, which allowed him to give up his "day jobs." Today, Thomas exhibits his single-fired wood-ash glazed pottery at juried art festivals across the country. In 2010 he began to include his crystalline work at his shows. Thomas is an exhibiting member of the Craftsmen's Guild of Pittsburgh, Ohio Designer Crafts, and the Michigan Guild.
Thomas's work has received several awards for his work, including:
2017 Best in Category, Bethesda Row Arts Festival, Bethesda, MD
2017 Best of Show, Upper Arlington Labor Day Arts Festival, Upper Arlington, OH
2015 1st in Ceramics, Letchworth Arts and Crafts Show, Castile, NY
2015 Outstanding Craftsmanship, A Fair in the Park, Pittsburgh PA
2015 Honors, Three Rivers Arts Festival, Pittsburgh, PA
2015 Award of Merit, Boardwalk Art Show and Festival, Virginia Beach, VA
2014 1st in Ceramics, Letchworth Arts and Crafts Show, Castile, NY
2013 Sand Dollar Award, Boardwalk Art Show and Festival, Virginia Beach, VA
2013 Third in Ceramics, Summerfair, Cincinnati, OH
2010 Third in Ceramics, Boardwalk Art Show and Festival, Virginia Beach, VA
2005 Functional Ceramics Exhibition, The Wayne Center for the Arts, Wooster, Ohio
2005 Best in Ceramics, Artigras Fine Arts Festival, Jupiter, FL
2004 Honorable Mention Ceramics, Lewiston Art Festival, NY
2004 Best Booth Design , Berea Arts Festival, Berea Ohio
Thomas was also published in Pottery Making Illustratted Article, "Making of the Elephant Teapot" Mar2005, Vol.8 Issue 2.
When he's not in the studio Thomas can be found playing Irish button box, jazz piano, chess, golf, or bicycling. He lives in scenic Washington, Pennsylvania, about 25 miles south of Pittsburgh, with his wife, Francine, and their seven cats.